Boston Light, America's First 1716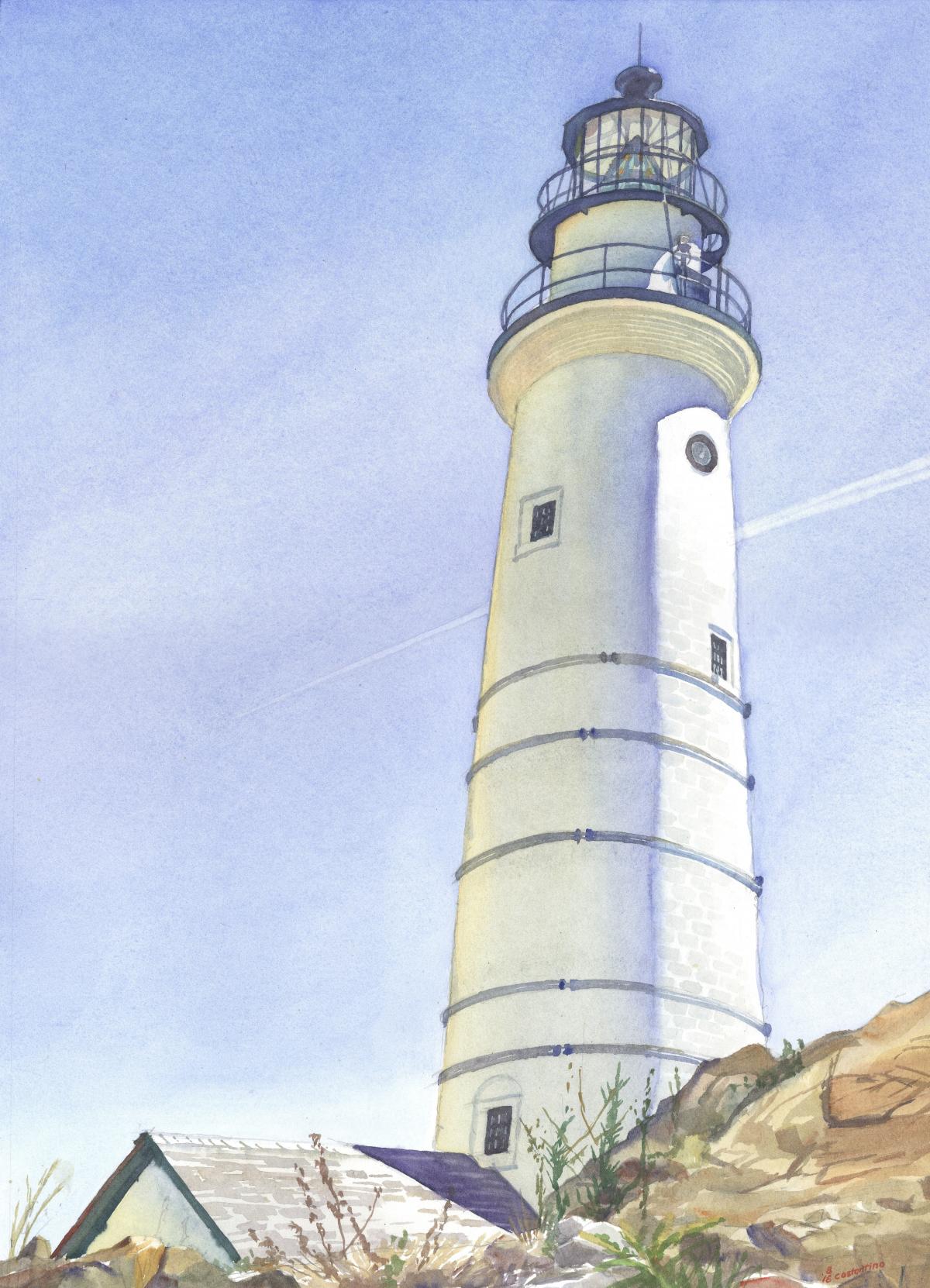 Little Brewster Island, Boston Harbor
Painted during the 100th Anniversary Year of the National Park Service (NPS), and the 300th Anniversary for Boston Light, my two watercolors represent the natural resource of Harbor Islands, the great metropolis and harbor of Boston, and American history. Invited by the NPS/Boston Harbor Islands Superintendent to prepare artwork for their celebratory events, I was ferried to Boston Light to prepare at least one watercolor of this iconic structure. I had a limited time to find and set up a view, and to get it done before the last boat departed in late afternoon. After a welcoming USCG visitor reception and a 76-step winding climb to the top of the Light (an exertion during the last twenty-five steps), I was prepared for the exertion of painting on site, and got the work started.
Weather was sunny, cloudless, and perfect, the views dramatic, and recollections of Edward Hopper's lighthouse paintings were coming to mind – primarily to keep my washes fresh and the colors luminous. I located a low angle view, but also in a shaded place on this open, windswept rock. The somewhat protected locus was a bit out of visitor bounds, but the US Coast Guard, which runs the facility for the NPS, gave me a worker's orange vest as a marker. My easel & painting would have been enough to make my location evident, but with my set up, I was a secondary attraction to the many visitors.
The cobalt sky was a big area, nearly half the painting, and the necessary foil for the vertical composition I chose and had begun to sketch. The low vantage point offered a dramatic aspect to the view, creating an enhanced sense of the Lighthouse's height. But as I was completing the drawing, and for just a minute or so, a departing jet from nearby Logan Airport traced a white air stream, which vaporous occurrence provided a relief element and a diagonal counterpoint to the sky space. As a negative shape in the composition, the sky stream mirrored the diagonal edge created across the top of the rock and the low support building on the left; it was also contrasted by a similar reverse angle of the low roof shadow.
The washes flowed fairly efficiently, with the sky applied in one flooded application of multiple blue colors. The warm reflected light on the shaft and the collar of the Light were blended with the cool edge of the shadow (though these edges kept moving during the painting). Working the color from top down for most of the structure, the washes were continued all throughout the bottom elements cottage roof & shadow, stones, plants, etc., done mostly in one pass. Just catching the last boat out, the tracery of the light itself had to be completed in studio.
To signify the unique character of this special place, I titled the work Boston Light† America's First 1716. The second watercolor, City's Gatekeeper Boston Light, looking back to Boston, was derived from my many site photos. Both pieces were on display for the NPS 100th Anniversary exhibit & events on Boston's waterfront in late August. Please see Jeremy D'Entremont's comprehensive lighthouse site at http://www.newenglandlighthouses.net/boston.html
Purchase Options
Limited Edition of 250, Archival Print
Original is Available
9" x 12" - $95
12" x 18" - $135
Greeting Card - $4
Contact the Artist for more info