Frank M. Costantino
Watercolors & Architectural Illustrations
Welcome! Thanks for visiting, and viewing this broad portfolio of my artworks.
Learn more about Frank Costantino's piece that is being presented in the MOMA!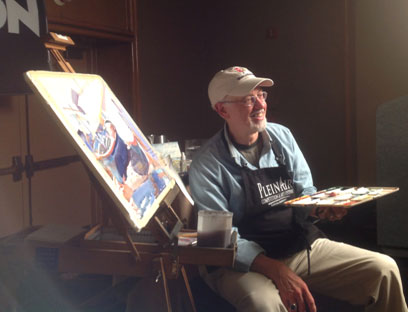 As an architectural illustrator for over forty-five years in my hometown of Winthrop MA, I have provided a national clientele of distinguished architects with striking & award-winning illustrations of projects around the world.  During these professional years, I have also developed my watercolor painting to an accomplished level, and capture urban scenes, landscapes, homes, and portraits in a plein air, or a direct, alla prima, colorist style.
I've been a long-standing signature member of the New England Watercolor Society (N.E.W.S.) Boston, and elected member of the Salmagundi Club of New York, as well as exhibiting member and supporter of local Art Associations, and regularly participate in national plein air events. My work is also represented in select galleries, and many collectors around the country have acquired or commissioned distinctive watercolors.
I hope you enjoy your visit here; and during a viewing of my site, that the subjects of my works transforms your impressions – so you might see some works that fit your perceptions, your memories, or simply arrest your attention. I would look forward to learning about your view of this site.