Harvey Residence, Marblehead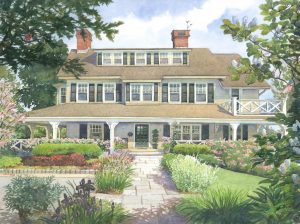 This commissioned piece came from a couple who had previously acquired two other originals of mine. The husband wanted a watercolor of the home as a gift for his wife. The home faced northeasterly, and the shadows could only be captured for a short duration of the morning.
Most of the work was done on site; but to include recently past seasonal flowers for the wife's hand-picked gardens, some final touches were done in studio. A signature cardinal, as a memento for the wife, was placed in the work as a special request by her spouse.
The couple's reception to the work follows. My husband and I decided to commission a watercolor painting of our home, and chose Frank, based on other plein air works that we're already in our collection. We were familiar with his excellent draftsmanship and mastery of the watercolor medium, but were so pleased to discover his extraordinary commitment to our project and vision.
The house is incredibly special to me as I have raised my children here, renovated the house several times and designed and installed the gardens over the years. He spent many hours on site drafting and consulting with us about the point of view of our project; specific plantings, bloom time, and the play of light on the house and gardens; before even starting to paint. It was such a pleasure working with Frank, he captured the spirit of our home, and our finished painting is a testament to his artistry, enthusiasm and passion for plein air watercolor painting.