Longfellow's Sentinels, Boston MA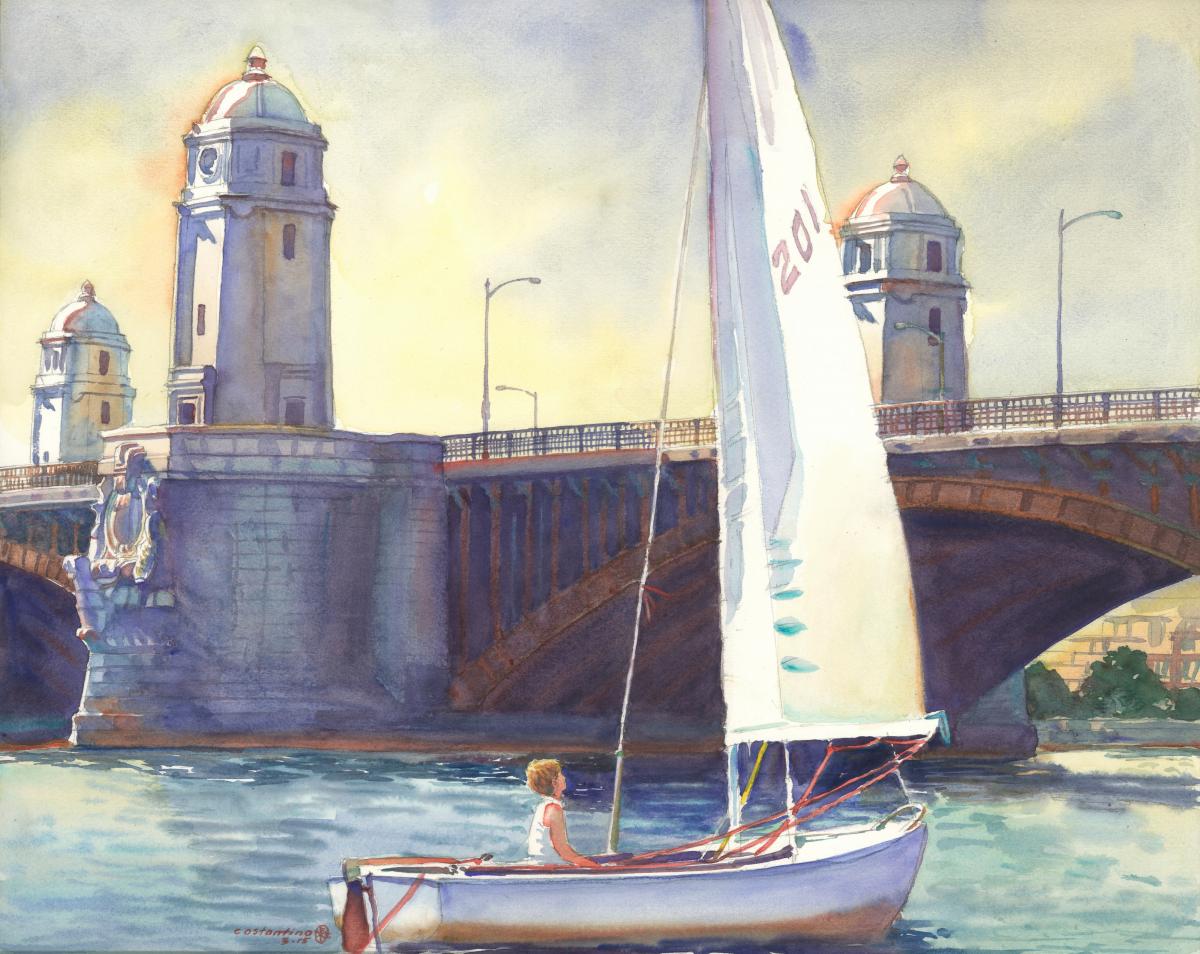 Boston, MA
Initially begun as a demonstration piece for the Dedham Art Guild, the image derived from a smaller study for the Charles River Conservancy's "River Stories 3" publication. This larger, more expressive view of the iconic salt & pepper towers of the Longfellow Bridge, from Boston's side of the Charles River, together with a small sailboat from the Community Sailing dock of the Esplanade, was completed in studio.
With a late afternoon light from the west glancing off the narrow face of the towers and the larger area of the sail, much of the bridge was in a darker shaded, almost silhouetted, state. The triangulation of the sail, with its negative space defined by the rigging, were perfect counterpoints to the horizontal thrust of the bridge and the projecting tower elements.
A weighty composition of a darkened granite and steel structure, the bridge's presence is relieved by the lighter sky above and water below, as well as the brighter foil of the sail and boat. Though larger in the foreground and concealing one of the rear towers, the boat anchors the work by its off-center position at the bottom of the composition, almost out of the plane of view. The curves of the sail and boat hull are reverse-mirrored by the arches of the bridge, which are softening forms in this view. The water is suggestive with subtle color shifts, highlights and softer strokes that counter the stronger edges of the bridge and boat. The color palette is mostly blues and blue-greens, with a tinge of warm yellow in the sky, water and sail, accented by the red of the rigging and intermittent red edges on the bridge. This is an image that speaks to one's of Boston's unique, historic structures, and a pleasurable activity on an urban river.
Purchase Options
Limited Edition of 250, Archival Print
17" x 21" Original is Available
9" x 12" - $95
12" x 18" - $135
Greeting Card - $4
Contact the Artist for more info