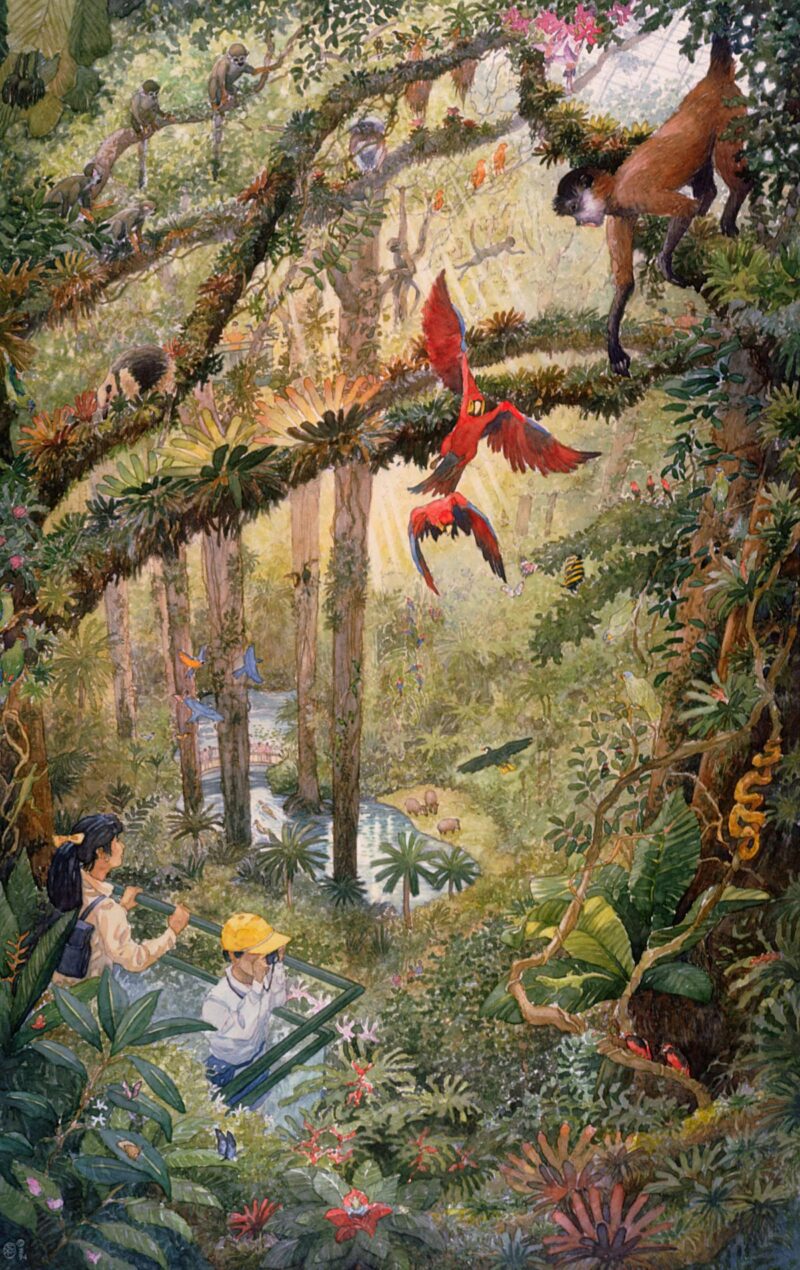 Purchase Options
Limited Edition, Archival Print
9" x 13" - $185
13" x 19" - $235
18"x24" - $300
Contact the Artist for more info
 About Tsuruhama Rainforest and MoMA
FRANK COSTANTINO WATERCOLOR ON VIEW
MUSEUM OF MODERN ART, NYC
September 17, 2023 – January 20, 2024
Illustrator and Artist, Frank M Costantino is extremely pleased to announce the selection of his watercolor painting, Tsuruhama Rainforest, for exhibition at the Museum of Modern Art in New York, in a themed exhibition,Emerging Ecologies: Architecture & The Rise Of Environmentalism.
Frank's work was selected in an unexpected manner, located by the show's curator about twelvemonths ago, and who sent his invitation to exhibit the original watercolor in this MOMA show.
Mr. Costantino's watercolor represents a naturalist rainforest reconstruction under a geodesic dome in Tokyo. His work will be exhibited with other "Emerging Ecology" drawings and sketches from such familiar luminaries as R. Buckminster Fuller, Frank Lloyd Wright, the Eames Office, Costantino Foundation, James Wines, Kevin Roche John Dinkeloo, and Emilio Ambasz, among many others.
Frank's large 1-6" x 2-0" watercolor was painted as a collaborative commission with his long-time clients, Cambridge Seven & Associates (C7A) principals Peter Chermayeff FAIA and Peter Sollogub FAIA, the designers for this exhibit. The early concept was very much in its formative stages, when Frank was invited to assist these talented architects to sketch, draw, interpret and represent an expansive vision for the project.
The initial inspiration for the drawing began with a very small, 2" x 4" (business card-sized), freehand, three-point perspective of a possible view. With this accepted approach for the drawing, Frank explored sketch designs of the space together with the architects, depicting an enormous number of animal, bird and vegetation specimens unique to this rainforest reconstruction – all to be displayed in amulti-tiered exhibit through treetops, and under a geodesic dome.
Over a number of months, as the sketching evolved toward its final drawing form, the exhibit design firm Lyons-Zaremba provided reference materials for the rainforest indigenous wild-life creatures and plants to inhabit and enliven the
 illustration. Multiple sketches and overlay drawings in various media were produced to develop ideas for so many elements. In process drawings with media of pentel on yellow trace, color pencil on white trace, ink line with color pencil, and large format marker sketches (more than twenty-five studies in all), the illustration progressed to a very defined form, and a descriptive line drawing was approved as the base line layout for the final watercolor. The composition required a careful composing of so many colorful and actively detailed specimens at appropriate scale and size, while balancing these numerous creatures in the expansive space of the exhibit drawing.
It was emphasized by the C7A architects that this illustrative watercolor, which would be very closely scrutinized by many scientists, naturalists, botanists, and wildlife specialists in Japan, required very accurate representation of every element. In addition to the many wildlife forms, a "forested" quality of light and depth and atmosphere of a jungle environment needed to be conveyed in watercolor throughout this very spacious, vertical vista.
The completed Rainforest piece, submitted to the American Society of Architectural Illustrators (www.asai.org) annual competition "Architecture In Perspective Ten" in 1995, was chosen for an "Award of Excellence"; which piece was published in the Society's AIP 10 Catalogue.
FRANK COSTANTINO WATERCOLOR ON VIEW-2
On exhibit tour, Tsuruhama was shown in a number of venues during 1995 & '96 – to wit: Premiere Venue at the Gallery in Newmark Center, Seattle WA; October 1995; American Society of Civil Engineers (ASCE) in Washington DC; November-December; 1995; American Institute of Architects (AIA) annual convention in Minneapolis, MN; April 1996; Association of Collegiate Schools of Architecture (ACSA) Conference in Copenhagen, Denmark; May-June 1996; Japan Architectural Renderers Association (JARA) Annual Convention in Tokyo; July 1996; Korean Architectural Perspectivists Association (KAPA) Convention, at The Gallery of the Moonwhailbo, Seoul; July-August 1996; The Chicago Architecture Foundation Gallery; August-September 1996. The Tsuruhama Rainforest painting was also invited for display at local venues; including the Boston Society of Architects (BSA) and the Boston Architectural College (BAC).
MOMA's Announcement:
"MoMA ANNOUNCES EMERGING ECOLOGIES: ARCHITECTURE AND THE RISE OF ENVIRONMENTALISM OPENING SEPTEMBER 2023 First Exhibition from the Emilio Ambasz Institute for the Joint Study of the Built and the Natural Environment Will Feature Over 150 Works from the 1930s through the 1990s That Address Urgent Ecological and Environmental Concerns NEW YORK, May 30, 2023—The Museum of Modern Art announces Emerging Ecologies: Architecture and the Rise of Environmentalism, an exhibition dedicated to both realized and unrealized projects that address ecological
and environmental concerns by architects who practiced in the United States from the 1930s through the 1990s. On view from September 17, 2023, through January 20, 2024, in the Museum's Third Floor North Galleries, Emerging Ecologies will feature over 150 works that reconstruct how the rise of the environmental movement in the US informed architectural practice and thought.
Models, photographs, diagrams, and sketches will be placed in context with archival materials such as posters, flyers, and articles to showcase innovative, fantastical, dystopian, and daring architectural projects that sought to navigate the fraught relationship between the built and natural environment. The exhibition celebrates the path-breaking environmentally conscious work of architects like Emilio Ambasz, Charles and Ray Eames, and Frank Lloyd Wright, while shining a light on many less familiar, historically significant while shining a light on many less familiar, historically significant practices like The New Alchemy Institute, Glen Small, and Mária Telkes.
By highlighting projects that both foreshadowed and anticipated the ecological effects of overpopulation, the depletion of natural resources, and rampant industrial pollution, the exhibition looks to the past to suggest solutions for the future. Emerging Ecologies: Architecture and the Rise of Environmentalism is organized by Carson Chan, Director, the Emilio Ambasz Institute for the Joint Study of the Built and Natural Environment, and Curator, Department of Architecture and Design, with Matthew Wagstaffe, Ambasz Institute Research Assistant.
Published to accompany the exhibition, Emerging Ecologies: Architecture and the Rise of Environmentalism, by Carson Chan and Matthew Wagstaffe, studies the role architects have played in defining our understanding of "nature" and the "environment," specifically during the rise of environmental discourse. The richly illustrated publication presents over 45 architectural contributions, from Eleanor Raymond and Mária Telkes's groundbreaking work on solar houses to Buckminster Fuller's world resource management system and the environmental symbolism of Emilio Ambasz. Through an introductory essay and brief texts on each of the featured projects, "Emerging Ecologies" documents the proximity between ecology, design, and statecraft.